Big boost to college aid unlikely despite moves by Yale and Harvard
Most schools don't have the funds to follow the lead of well-endowed universities.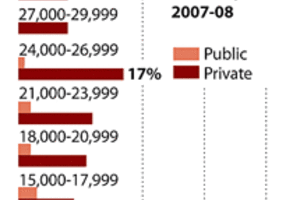 SOURCE: College Board/AP
Now that Harvard, Yale, and a handful of other top-ranked schools have made moves to make their undergraduate programs more affordable, will the rest of American colleges follow suit?
Not likely. Tuition is expected to keep rising faster than inflation, experts say. And recent moves by some schools to make more aid money available – Yale University announced the latest such plan Monday – merely illustrate the deep divide in American higher education. A few elite schools have huge endowments that allow them to spend more on financial aid programs, while most do not.
"Historically, the decisions of Ivy League schools have been influential in terms of financing college," says Anya Kamenetz, author of Generation Debt. "Colleges – in the extent that they're able to – have followed in the footsteps of what these Ivy Leaguers are doing. [This time,] however, to the extent that they're able to is a big if."
On Monday, Yale announced significant financial-aid packages for students with a family income of $200,000 or less. For these upper-middle income families, the change means a 33 to 55 percent reduction in tuition, and families earning less than $60,000 a year will not be required to make any contribution to Yale. Last month, Harvard unveiled a similar plan.
Both institutions were able to implement these changes thanks in large part to their massive endowments. Harvard has the nation's largest endowment, at $34.9 billion; Yale is No. 2, at $22.5 billion). But with the wealthiest 10 percent of colleges and universities holding most of the endowment assets, according to the College Board, the Harvard and Yale models will be difficult to replicate broadly.
"The smoke and mirrors in this is that the public thinks that Harvard, Yale, and others are actually addressing the cost of higher education," says Robert Massa, vice president for enrollment at Dickinson College in Carlisle, Pa. "All they're doing is lowering the price because they have the largess to do it, and most of us don't, which will cause a systemwide increase in price."
---