With predator populations rising, more calls for control
Western states grapple with how to address an increasing threat to livestock from wolves and big cats.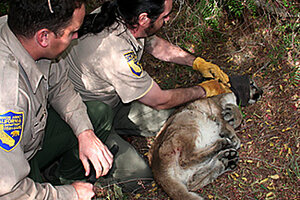 Jesse B. Gill/Redlands Daily facts/ap/file
Around the West and in various ways, efforts to wage war on wildlife predators are increasing.
Some examples: ranchers and environmentalists are fighting over a proposal to have the Environmental Protection Agency ban the use of two poisons that kill coyotes.
A successful wolf-reintroduction program means wolves are likely to be taken off the endangered species list soon, and critics of removal say this would leave them vulnerable to indiscriminate shooting, particularly in Idaho and Wyoming.
And here in Oregon, hunters soon may be deputized to kill cougars, whose population has grown from several hundred in the 1960s to about 5,000 since the use of radio-collared dogs to hunt them was banned in 1994.
While there is no direct connection, collectively these issues reflect the tension between rural Westerners involved in ranching, farming, and logging, and those in growing urban and recreational areas where people are more likely to have a friendlier attitude toward wildlife. In all cases, wild species' need for adequate habitat is competing against human interests.
Tuesday was to have been the deadline for public comment on a proposal before the EPA to outlaw the use of sodium cyanide and sodium fluoroacetate to kill wild animals that prey on sheep and cattle. But at the request of the American Veterinary Medical Association, the deadline was extended to March 5.
---