Super Bowl coaches: friendly rivals and sticklers for detail
Under Belichick, the Patriots are undefeated this season. With Coughlin, the Giants won a record 10 games on the road.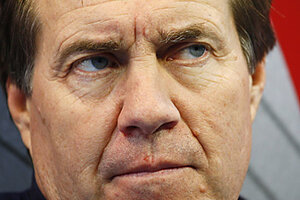 Shaun Best/Reuters
They both served as assistants under guru Bill Parcells at the New York Giants. Each left his first head coaching job because he couldn't get along with anyone. Their résumés are so similar, in fact, that the main difference on Sunday may come down to this: Bill Belichick has already been to the Super Bowl three times, but this is Tom Coughlin's first appearance as head coach.
Theirs is a friendly rivalry – they've been chums for decades and each praises the other's record.
But warm and fuzzy aren't necessarily words that spring to the lips of all who've shared the sidelines with the Patriots' Belichick or the Giants' Coughlin. Both are known for an autocratic style, an exacting attention to detail.
"They come from the same family tree of coaching," says Howie Long, a Fox football analyst and former Oakland Raider. "I don't think either one of them are necessarily guys you'd want to take long walks with on the beach, but they're great coaches."
Under Coughlin's direction, the New York Giants set an NFL record this season by winning 10 games on the road. The team arrives at Super Bowl XLII after downing three top teams in the playoffs.
---