Huge meat recall prods further reforms
From fast-food chains to Congress, moves are afoot to reduce animal suffering and ensure food safety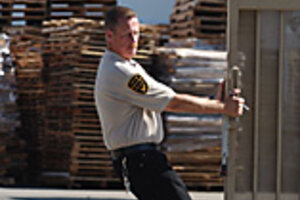 Therese Tran
This week's recall of 143 million pounds of beef represents the confluence of two important trends in US agriculture: the push for more humane treatment of farm animals, and efforts to prevent the spread of disease.
Under pressure from consumers and animal rights groups, major restaurant and grocery chains from Burger King to Wolfgang Puck to Safeway are requiring that eggs and meat come from producers that reduce animal suffering.
A new bill in the US House of Representatives would require the federal government to do the same for food it buys for schools, prisons, and the armed forces.
"Just as they set standards for fuel efficiency or hiring practices [in government contracts], they can set standards for animal welfare," says Michael Markarian, executive vice president of the Humane Society of the United States [HSUS], which provided the secret video of animal abuse that led to the beef recall.
Other bipartisan legislation in the House and Senate would ban US Department of Agriculture inspectors from approving any meat from sick and injured cattle, sheep, pigs, and other animals, closing a regulation loophole critics say now exists. It also requires immediate humane euthanasia for farm animals unable to stand.
---
Follow Stories Like This
Get the Monitor stories you care about delivered to your inbox.