Legal immigrants to U.S. face endless wait
With its backlogs and bureaucracy, the immigration system is punishing for those who play by the rules.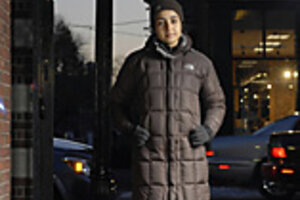 Mark Thomson
When Zeenat Potia started her application for US permanent residency – known as a green card – she assumed she'd get it in two years. But soon she was told to expect delays.
Five years later, Ms. Potia is still waiting.
For Potia, a native of India, the delays mean she must keep leaving and reentering the US to maintain her temporary work visa, or forfeit her right to travel outside the country. Last spring, Potia spent $1,000 to travel from Cambridge, Mass., to Montreal – just to get her passport stamped. "What if I needed to go [home to India] for an emergency?" she asks. "I needed that stamp."
Immigration has been a hot topic of late. But amid the furor over illegal immigrants, the plight of legal migrants caught in a system that is slow, erratic, and often unresponsive is largely ignored.
The result: talented, hardworking people who play by the rules are trapped in limbo, and even close relatives of American citizens may wait up to a decade to enter the US.
"Ten years is half of a lifetime for a child," says Cristina Rodriguez, a law professor specializing in immigration at New York University. "The backlogs are keeping families apart and diminishing confidence in the system."
This month, President Bush moved to ease the backlog of green-card applications by allowing applicants to obtain permanent residency before FBI security checks are complete, a rule change that will almost instantly benefit 47,000 people.
---