Georgia brawl over single-sex school plan
Greene County is poised to divide public schools by gender, but a court challenge is likely.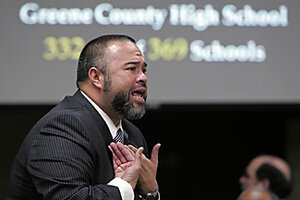 John Bazemore/AP
To Mary Miller, high school isn't just a time for study for her daughter, Shakeena Jones. It's also about learning life lessons, including the complexities of boy-girl relationships.
But for too many of the kids in Greensboro, Ga., says resident David Neal, strutting, preening, and dating have superseded geometry and literature lessons as the real reason to get up for school every morning.
With those viewpoints as bookends, a bold plan to segregate Greene County schools by gender has divided a district long known for abysmal test scores and high dropout rates.
The question now confronting school leaders here on the shores of Lake Oconee is one that could face other small, poor, and minority schools both in and beyond the South: Is it advisable, or even legal, to mandate single-sex education, even when research shows that students' academic performance could improve when taught in such a setting?
"Some districts may be moving in this direction in an act of desperation," says Richard Kahlenberg, an education scholar at the Century Foundation, a nonpartisan policy think tank in New York.
The Greene County School District is among the top per-pupil spenders in Georgia. Yet on local benchmark assessment tests, high school students here, on average, get only about half the questions right on subjects ranging from social studies to algebra.
---