As Southwest grounds planes, calls rise for FAA overhaul
Critics say that FAA inspectors cut airlines too much slack.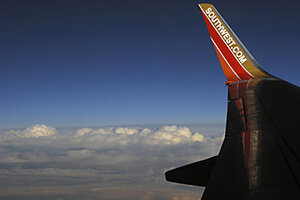 David Duprey/AP/file
Calls are increasing for an overhaul of the Federal Aviation Administration, after Southwest Airlines this week grounded about 40 planes because of maintenance concerns.
For years, the FAA has been accused of being "too cozy" with the airlines it is charged with regulating. It even routinely refers to them as "customers," according to aviation watchdogs.
Those critics say that's led to a lax atmosphere where FAA inspectors cut airlines too much slack, which could lead to potentially dangerous safety situations like the one at Southwest.
The airline made the decision to ground the planes as a precaution after examining its maintenance records. It undertook that extensive review after the FAA slapped it with a record $10.2 million fine for continuing to fly almost 50 planes in 2006 and 2007 that hadn't been properly inspected. That was reportedly done with the knowledge of an FAA inspector assigned to Southwest.
The FAA acknowledges that it was a mistake. But the administration and its supporters say the Southwest situation was an aberration in a regulatory regime that has led to one of the safest aviation systems in the world.
Still, this week Robert Sturgell, acting FAA administrator, met with all his safety managers to reinforce the importance of vigilance.
Yet congressional investigators aren't convinced and are continuing to examine the FAA and the way it oversees airlines. It's called on any airline or FAA employee with knowledge of lax oversight practices to contact them.
"We suspect there may be other airlines in a similar situation to Southwest, and our investigation is continuing," says Jim Berard, director of communications for the House Transportation and Infrastructure Committee.
---