Plane maintenance lapses draw congressional hearing
With four major carriers having grounded planes, FAA whistle-blowers will testify Thursday before Congress.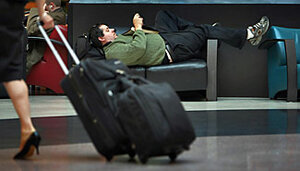 John Spink/Atlanta Journal-Constitution/AP
The Federal Aviation Administration is under fire.
With United Airlines now the fourth major carrier to ground planes over the past month because of maintenance concerns, critics charge that the FAA is "too cozy" with the airlines it regulates. It's a situation, they say, that could eventually affect the safety of the flying public. As a result, critics are calling for a complete review and overhaul of the agency.
On Thursday, a major congressional hearing will feature the testimony of FAA whistle-blowers who allege that with the FAA's knowledge, Southwest Airlines continued to fly for up to 30 months airplanes that missed inspections.
"All eyes are on this now. We have a fundamental problem here," says Kevin Mitchell, chairman of the Business Travel Coalition, which represents corporate travel managers. "It's time for a giant step back for a top-down strategic review of the FAA."
The FAA denies that it has a "cozy" relationship. On Wednesday, it released a review of hundreds of airline maintenance records and found "an extraordinarily high rate" of airline compliance with its regulations. It says that the problems recently highlighted by whistle-blowers about Southwest Airlines, which prompted the review, were "aberrations."
"We would point out the unparalleled safety record as proof that the risk-based oversight system and voluntary reporting programs we have are producing results," says FAA spokesman Les Dorr. "The safety record we have today is not a result of chance, happenstance, or an accident."
---