States vie to attract clean-tech industries
California and Massachusetts have the edge, but at least half of US states have entered the race.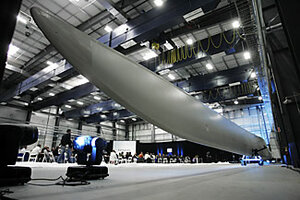 Jack Dempsey/AP
On the road to becoming governor of Massachusetts, Deval Patrick visited Evergreen Solar in Marlborough, a campaign stop that at the time seemed more of a nod to environmental stewardship than part of a greater economic policy. But more than two years later, the solar-cell manufacturer has demonstrated the explosive potential of ecoindustry, announcing plans this week to triple its Massachusetts workforce to 1,000 by 2009. The move will bring $44.5 million a year in salaries and benefits to the Bay State.
The "clean tech" industry may not be big enough to stave off a recession this year, but states increasingly see such companies as economic drivers of the future – and are beginning to compete among themselves to attract them. So far, Massachusetts and California have taken the lead, but less obvious competitors, such as Iowa and Minnesota, are also vying for a share of the clean-tech market.
"This is a serious economic opportunity," says Daniel Esty, director of the Center for Business and the Environment at Yale University in New Haven, Conn. "You already see some states that have established this as part of their play to the world and a number of others that are going to be stepping up into this marketplace in the coming years."
---