Western ranchers fight for a new deal on wilderness
The Owyhee plan would designate 517,000 Idaho acres as federal wilderness and put other public land up for sale.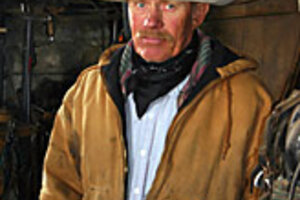 Ben arnoldy
Rancher Mike Hanley may have to sell half his cattle after losing permission last week to graze them on a piece of public land. His wife has spent sleepless nights thinking over their options.
Uncertainty has become a way of life for a generation of ranchers here, locked in a long-running battle with environmentalists wanting to restrict grazing on public lands. The ranchers' fight, dubbed the sagebrush rebellion, has played out in communities up and down the mountain West.
The Hanleys are pinning their hopes on a treaty of sorts called the Owyhee Initiative. The deal, hashed out over years of negotiation between ranchers, conservationists, and local officials, will be presented at a congressional hearing Tuesday. It would set aside 517,000 acres in Idaho's Owyhee County as federal wilderness, while removing restrictions on or selling other public land.
It's one of a number of land-use deals heading for Congress that would break a dearth in new wilderness designations. Legislators may be wowed to see Stetson hats and environmentalists both pushing the same bill. But consensus isn't total: some warn that the concept of wilderness is being watered down in a rush to compromise.
"I suspect that the easy [wilderness designations] were done years ago. Any new ones would likely be much more complex and require a more complicated collaborative process," says John Hoehne, chief of staff for Sen. Mike Crapo (R) of Idaho, who supports the plan. "It's very clear that many areas particularly of the West are aware of the [Owyhee] effort and I'm sure they are watching to see if there is anything they can learn and apply."
Senator Crapo's support is crucial since western senators have kept new wilderness designations off the table for decades in many states. Now Idaho could see two new designations – Owyhee and Boulder-White Clouds. Wild Sky in Washington may become the state's first new wilderness area in about 20 years. Negotiations are moving ahead in Montana.
---