To reach youth, California goes YouTube
The state government has launched its own video channel on YouTube.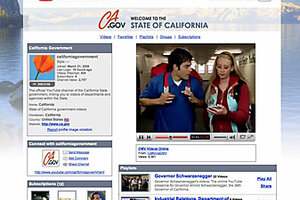 Screen grab from www.youtube.com/californiagovernment
Question: What do you get when you cross the stuffy subject of America's largest state government with the audiovisual possibilities of the digisphere? Answer: http://www.YouTube.com/Californiagovernment.
Launched this month, California's official video channel aims to further Gov. Arnold Schwarzenegger's mission to make government more accessible to the average person through technology – and hopefully some creativity.
The state follows Virginia and a handful of government agencies into the fast-paced, visually stylized universe of YouTube, the popular website where users post and watch short video clips.
"We are looking at the wave of the future, a turnover in how governments are going after engaged citizens," says Barbara O'Connor, professor of communications and government at California State University, Sacramento. "The boomers are moving on and states want to master a medium that younger, tech-savvy folks regularly use."
In California's case, the subjects are drier than most YouTube videos – tax filing, DMV procedures, industrial relations, transportation highway updates, and even replays of the governor's past press conferences. But many of the video clips try hard to engage and entertain. They're certainly more easily digested than the oatmeal-drab, text-heavy offerings on standard government websites.
Reaching young people
---