How inclusive is the National Day of Prayer?
Some groups are challenging the exclusive nature of Thursday's official events, coordinated by conservative Christians.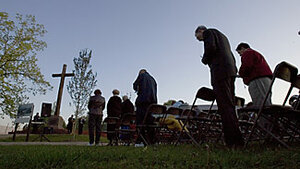 On Thursday, several million Americans will gather in special observances across the country to mark the National Day of Prayer, first inaugurated by Congress in 1952.
Under the energetic sponsorship of a national task force, the events have mushroomed into the thousands in recent years. They are held at houses of worship but also schools, courthouses, city halls, state houses, and at the White House and on Capitol Hill.
This year, however, voices are being raised to challenge the religiously exclusive nature of the task-force effort, which is coordinated by conservative Christians who have encouraged government leaders' involvement in their events but rejected direct participation by other faith leaders.
Jews on First, an online watchdog group on the First Amendment, has initiated a campaign for an "inclusive prayer day" that has attracted the support of interfaith and civil rights groups, Muslim organizations, and various churches, including the Roman Catholic Archdiocese of Los Angeles. Such groups are holding alternative services, staging protests near task force events in cities such as Fresno, Calif., and Camp Hill, Pa., or are lobbying governors in support of inclusive observances.
---