Private philanthropy's global reach
e-giving spurs new practices, donors. But biggest 'giving' is migrant workers' remittances.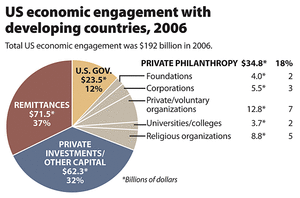 SOURCE: The Index of Global Philanthropy, 2008, by the Hudson Institute/Rich Clabaugh–STAFF
Global philanthropy sports a multitude of faces. Bill Gates stands out, of course. But there's also the college student clicking a small online donation, the church contributing to microloans in Africa, and the Italian soccer team bringing "the beautiful game" and educational programs to kids living in the rubble of war.
The changing nature of private giving and its emergence as a worldwide phenomenon are spotlighted in a report to be released Monday by the Hudson Institute – The Index of Global Philanthropy 2008. The Index is the only comprehensive source on the scope and magnitude of private giving to the developing world.
Philanthropy is being transformed as technology opens the door to speedier, less costly forms of giving and inspires people of all ages and incomes to get involved. Wealthy corporate leaders and foundations are urging innovative approaches, from social entrepreneurship to combining for-profit and charitable enterprises. New tax laws are encouraging philanthropy in Europe and elsewhere.
"What I find exciting about private giving is that it's reinventing foreign assistance," says Carol Adelman, director of Hudson's Center for Global Prosperity, "and e-philanthropy is [creating] 'ordinary Oprahs' around the world."
---