Virtual schools see strong growth, calls for more oversight
Half of courses in Grades 9 to 12 will be delivered online by 2019, predicts a new report.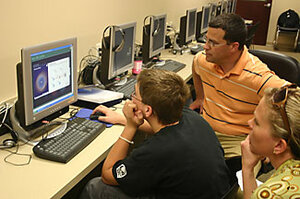 Ben Arnoldy
Rather than send her kids off on the yellow bus, Briana LeClaire has school come to her home. Her kids attend a virtual public school, connecting online to teachers and coursework. Everything from books to microscopes to radish seeds arrives via brown trucks.
Mrs. LeClaire describes it as the 21st-century, middle-class version of the private tutor. Her 6th-grader can move quickly through her strong subjects, such as literature, and spend more time on her weaker areas, like math.
Enrollment in online classes last year reached the 1 million mark, growing 22 times the level seen in 2000, according to the North American Council for Online Learning. That's just the start, says a new paper by the Hoover Institute, a conservative think tank at Stanford University. Its authors predict that by 2019 half of courses in Grades 9 to 12 will be delivered online.
The efficiency of online learning accounts for this growth. But there's little research assessing the quality of these programs, which some experts say don't have enough official oversight.
Under the federal No Child Left Behind law, "you have to have high standards, tight oversight, scrutiny over what teachers are doing. Yet on the other extreme, also promoted by the federal government, are these loosely accountable approaches to schooling," says Luis Huerta, a professor at Columbia University's Teachers College who has researched virtual schools for more than a decade.
---