Will air travel be better this summer?
Airlines move to reduce problems of 2007's dismal season, with a focus on New York area traffic.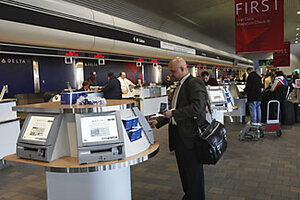 RICk Maiman/AP
Even with an estimated 2 million fewer people taking to the skies this summer because of the economic downturn and higher fares, airline officials are still expecting it to be a "challenging season."
Planes will still be packed, schedules interrupted by the usual thunderstorms, and airlines operating with bare-bones staffs.
So, in an effort to avoid a repeat of last summer's aviation debacle – which saw record delays, tons of lost baggage, and increased complaints – the carriers are rallying forces now in hopes of smoother flying between Memorial and Labor Days.
Top on their list is pressuring the Federal Aviation Administration (FAA) to do even more to ease the air-traffic bottleneck in New York, which is responsible for half of all delays.
"This year delays will cost the airlines in the range of $10 billion," says James May, president and CEO of the Air Traffic Association, which represents major US airlines. "To give you an example, a 747 sitting on the tarmac at JFK [John F. Kennedy International] costs about $60 a minute."
The FAA and the airlines have been working to improve the efficiency of the New York airspace to reduce delays for almost 10 years. But thanks to last summer's chaos, the effort got a jump start. This past year a task force recommended 77 initiatives to make it possible for more planes to take off and land from the region's major airports at one time. Of those, only 12 have been implemented so far and another two dozen are in the works. The FAA has projected it will take five years to implement every recommendation.
That's not good enough for analysts who say the aviation system is already in crisis and damaging the economy as a whole.
---