Why a Gulf wetlands may become a city
Hurricane Katrina battered Bay St. Louis, Miss. Now, developers plan a condo city nearby.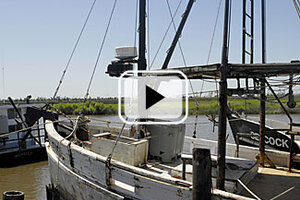 Mark Thomson
If America learned one thing from hurricane Katrina, hydrologists argue, it should be this: Don't fill in tideland marshes and build on them. Such human activity, they insist, diminishes the marshes' ability to absorb some of the wallop of storms as they strike coastal communities.
Here on the westernmost reaches of Mississippi's marshes - the very place where Katrina rushed ashore on its path to becoming one of the worst natural disasters in US history - that lesson is being tested, with broad implications for US taxpayers who pay most of the bills for storm repairs.
Bob Metz, a crab dealer who plies the tidelands of Bayou Caddy, has only to look out from his boathouse to see, in the distance, the future: the new Silver Slipper Casino, its bright sign twinkling beneath a dark cumulous cloud stack.
To Mr. Metz, plans to augment the casino with a new condo city built on top of a tidal marsh is the prototype of a boondoggle waiting for a bailout. But local and state governments so far are backing the plan, and the US Army Corps of Engineers is considering a permit application to fill the spongy ground so the development will have firm footing. If approved, the permit would, quite literally, lay the groundwork for a project that could create the fourth-largest city on the Mississippi Gulf Coast.
"The big guys get what they want; that's the lesson I take from this," says Metz.
---