Cottages are lightning rod in storm over Gulf's future look
Many Mississippi towns want the tiny homes gone by next spring, but some envision them as a cornerstone of the post-Katrina coast.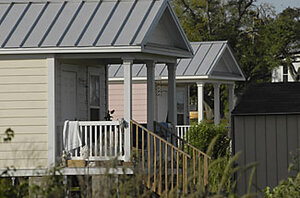 Mark Thomson
Russell Voorhies loved his 3,000-square-foot house on the Mississippi Gulf – the way the porch snagged the winds, the big rooms echoing with the laughter of company.
Hurricane Katrina downsized his domain to nothing. Today, his new castle is about one-seventh the size of his old one, measuring 450 square feet. But surveying the familiar view from the dollhouse porch of his "Mississippi cottage," Mr. Voorhies is one of many storm survivors who have reassessed their coastal existence.
"Small works for me right now," Voorhies says of his cottage, one of nearly 2,400 the Mississippi Emergency Management Agency (MEMA) has given to state residents to replace the FEMA trailer. "There's less to lose."
Not everyone is an enthusiast of the Mississippi cottage – a wheeled version of the now famous Katrina Cottage – despite its compact cuteness. Most communities along the now-rebuilding Gulf Coast have demanded that MEMA haul them out by next March, citing concerns about their storm-worthiness, low assessed values, and aesthetics. That is leading some cottage-dwellers to vow to fight for their abodes, promising a showdown ahead.
The outcome will determine whether the Mississippi cottage fades away or becomes an architectural cornerstone of the rebuilt coast. Cottage champions warn that their removal may force another exodus of low-income Katrina survivors. Cottage detractors say their narrow profiles are too reminiscent of the post-Katrina trailer era – daily reminders of the havoc and sorrow of that time.
---