NBA hopes Celtics-Lakers rivalry can respark the fans
But current finals lacks superstar matchup of Bird vs. Magic.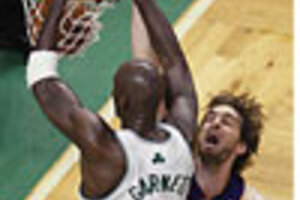 Adam Hunger/Reuters
With the return of pro basketball's most storied rivalry in the finals, the National Basketball Association has big hopes for a rebound in fans.
Last year, the league bounced from a controversy-filled All-Star game of celebrity excess in Las Vegas to a tepid San Antonio-Cleveland championship round to a summer filled with a disgraced NBA referee's guilty plea in a gambling scandal. Fast-forward to the NBA's recent run, a remarkable turnaround that began when Commissioner David Stern celebrated the league's humanitarian efforts during an All-Star weekend in hurricane-ravaged New Orleans. It was followed by exciting playoff runs featuring, among others, the resurgent Hornets and capped by a Celtics-Lakers that continues with Game 3 Tuesday night in Los Angeles. Boston leads the series 2-0.
"I just think it's great for the league," former Celtics great Larry Bird said during a recent NBA teleconference with former Lakers rival Magic Johnson to promote the renewed battle. "It's great for basketball."
---