Floods engulf archaic levee system
The Midwest's patchwork of levees wasn't adequately monitored or maintained.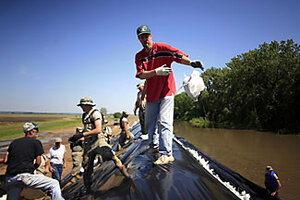 Eric thayer/reuters
The floodwaters, in many cases, have simply been too high.
The sprawling network of levees – built over many years to protect the Upper Mississippi basin from the sort of disastrous flooding that has claimed homes, lives, and millions of acres of farmland this past week – was never designed to withstand the magnitude of a 500-year flood.
And so towns like Gulfport, Ill., and Alexandria, Mo., have watched as waters spilled over the tops of levees that were supposed to keep them dry. [Editor's note: The original version misstated one of the towns referenced.]
The flooding has raised questions about the adequacy of the patchwork system – in which little information is known about where levees exist, who maintains them, and what their condition is – even as towns downstream hurry to fortify their own levees in preparation for the cresting floodwaters still moving south.
"Nature has its way of upping the ante," says Eric Halpin, special assistant for dam safety and levee safety with the US Army Corps of Engineers. "This storm proved that even if we had built levees to the floods of record, they would have been overwhelmed by this event."
So far, at least 20 levees along the Mississippi have overtopped this week, and another 20 to 30 are at risk.
It is too soon, say officials, to determine which ones may have failed before the water spilled over the top and which ones breached due to weakening after the water had overflowed.
---