Cellphones in the sky?
Prospects improve that airlines will OK their use in flight.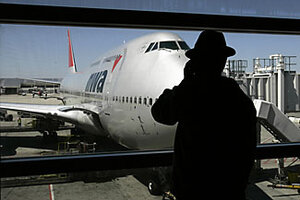 Kiichiro Sato/AP/FILE
With airlines now racing to provide Internet service to their cramped, tired, and often late passengers (think of it as a small bone thrown to a very hungry dog) and the European Union already giving the A OK to dialing in the sky, it may not be long before passengers in the US will also be able to chatter away on their cellphones at 30,000 feet.
Even a year ago, the notion seemed improbable. The Federal Communications Commission (FCC) had banned it; questions remained about its safety; and polls showed Americans were overwhelmingly opposed to it, as much as 70 percent in some surveys.
But like the ever expanding options available on the phones themselves, things change. The FCC is no longer opposed to cellphone use in planes; technology has resolved safety concerns; and a poll released last week by the Bureau of Transportation Statistics found that Americans are now split on whether it would be advisable to let the passenger in the next seat chat up his brother on the phone.
For now, at least, the decision lies with the individual airlines. Some may soon allow it, if only to test the public's reaction.
"It may be hard to stop technology moving forward," says Clint Oster, an aviation economist at Indiana University in Bloomington. "The interesting question is whether this will be regarded as enough of a convenience to overcome the nuisance factor."
Yes, the nuisance factor.
For some travelers who value their sky-high, cellphone-free sanctuary, that is a major concern. It's bad enough to have to listen to one-sided conversations while waiting to board the plane, they note, but at least one can walk away. But an airplane is an enclosed metal tube in which one is regularly advised to stay strapped into his or her seat.
---