Despite Alaska's challenges, new farmers take root
The demise of Matanuska Maid Dairy reflects agriculture's decline here. But some niche farms are prospering.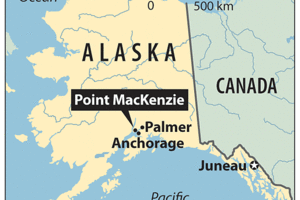 Rich Clabaugh–STAFF
After years of mounting losses, a venerable Alaska agricultural institution was formally dismantled this spring. At the bankrupt Matanuska Maid Dairy, a business that dates back to the 1930s, everything from delivery trucks to cardboard boxes has been auctioned off.
The closure of the state-owned dairy is evidence of how tough farming is in this region. With a hostile climate and a small, isolated market, Alaska farming is better known for comical giant cabbages grown huge under the midnight sun than for being serious business. The state with the most land has the tiniest agricultural sector.
Yet some entrepreneurs are showing they have the creativity and marketing savvy to survive here.
"Dairying in Alaska is not for the faint-hearted, I can tell you that right now," says Wayne Brost, whose operation at Point Mackenzie, is one of only six dairy farms still operating in Alaska and one of four that supplied Mat Maid.
One of two dairies in the state, Mat Maid's main problem may have been its outdated large-scale model. Mat Maid's big plant pumped out large quantities of product, with 80 percent of its milk supply shipped in from the Pacific Northwest by the end – in contradiction of its longstanding motto, "Fresher By 1,000 Miles." Despite a loyal customer base, its products could not compete with cheaper imports on the shelves.
---