Gustav holdouts' tales give evacuees pause
Their experiences could provide valuable lessons about evacuation versus staying put.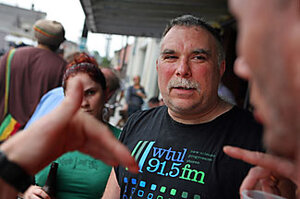 Melanie Stetson Freeman/The Christian Science Monitor
After curfew on Wednesday night, two National Guard soldiers traded their rifles for a guitar and some drumsticks.
Taking the stage at a tiny lounge in the French Quarter, they plunged into a blues riff that, by the end, became a new song called the "Rockin' Army Blues."
Meanwhile, at a hurricane party in the Uptown neighborhood on the eve of hurricane Gustav's landfall, locals gathered on the front stoop to compare firearms as one young woman cradled a shotgun like she was holding a baby.
The night after Gustav came ashore, small squads of storm holdouts and National Guardsmen played an elaborate game of curfew cat-and-mouse. But they finally gave up as everyone ended up at the Maple Leaf lounge for a late-night gab session.
As Mayor Ray Nagin lifted checkpoints a day early Wednesday to allow residents to return, the few thousand New Orleanians who stayed put for Gustav will regale some quarter-million returning evacuees with such mirthful, and true, storm stories, often in sharp contrast to tales of evacuation frustration from a weather event described in the aftermath as little more than a prolonged thunderstorm.
The role of story-swapping
Indeed, nearly as important as official warnings and news bulletins, front porch story-swapping among storm survivors plays a critical role in how Americans respond to the next looming megastorm. Now, US emergency officials are trying to listen in, increasingly keen to understand a basic, but crucial, concept of storm planning: A good evacuation, like a good story, is all in the details.
---