Kids' protest highlights rich-poor schools gap in Illinois
Critics say Chicago students shouldn't miss class to point out education-funding disparities.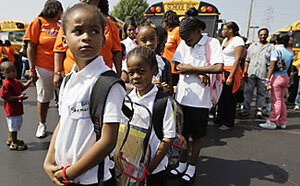 M. Spencer Green/AP
On what was supposed to be their first day of school this week, about 1,000 Chicago Public School students got a different sort of education.
Rather than go to classes, they boarded buses with parents, church leaders, and activists to try to enroll in a wealthy suburban district – a symbolic protest against school funding inequities that are among the most glaring in the US.
Chicago's mayor, school superintendent, and other officials condemned the boycott, saying skipping school sends the wrong message. But organizers say it's a desperate situation that calls for drastic action – and that the issue grabbed front-page headlines for the first time in years, due largely to the theatrics of the boycott.
"It's irresponsible to send kids to a system that doesn't have the resources to educate them," says James Meeks, the state senator and Chicago pastor who planned the boycott, responding to charges that having kids miss school is irresponsible. "This system does not have the money to do the job."
Equity in education funding has been a national issue for 35 years, ever since a 1973 US Supreme Court case challenged the fairness of a system in which the poorest students had the worst schools. The plaintiffs lost the case, but the justices issued a rebuke to the system, setting off a series of state litigation cases that have been surprisingly successful, says Michael Rebell, director of the Campaign for Educational Equity at Columbia University's Teachers College. In some cases, old systems like Illinois's, which rely primarily on property taxes for school funding, were changed, and in many states, lawsuits that focused on "adequacy" – the responsibility of the state to ensure that all students receive at least an adequate education – have led to more state funding to the poorest districts.
---