Alligator hunts raise questions in South's swamps
They're part of population control, but are public hunts ethical?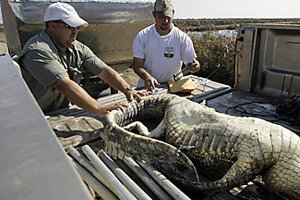 David J. Phillip/ap
Facing more than 500 complaints a year about giant alligators in suburban swimming pools, ditches, and culverts, South Carolina has joined seven other Southern states in an ambitious effort to recruit thousands of would-be gator wranglers to cull the toothy and well-armored brood.
They didn't have to look far. Nearly 1,500 aspiring Steve Irwins, most of whom had never before chased gators, signed up for 1,000 new licenses in South Carolina's first public alligator hunt in 44 years.
While the goal in part is to force a fear of humans onto the alligator population, the chief aim is to save the venerable descendant of dinosaurs from the jaws of public opinion, says South Carolina wildlife biologist Jay Butfiloski.
But the circumstances around the massive new hunt, including a controversial killing of a 12-foot, 7-inch giant on Lake Marion, S.C., by three novices, is now raising questions about whether appealing to man's quest for adventure in the swamps is really the best and most ethical way to ease growing tensions between gators and people.
"When they first started, the hunt was more of a commercial hunt than a sport hunt," says Franklin Percival, an alligator expert at the Florida Cooperative Fish and Wildlife Research Unit in Gainesville. "They've gone in more recent years toward something that involved a lot of people who had never done it before."
To critics like Joe Maffo, an animal control expert on Hilton Head Island, S.C., it could be a disaster waiting to happen.
---