Was the New Deal too small?
A lesson from Great Depression, historians say, is that Roosevelt didn't spend enough to jolt economy into recovery.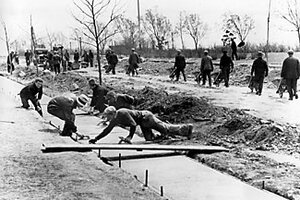 AP/File
In announcing the biggest public works spending in 50 years, President-elect Obama takes a page from the Great Depression that is both model and cautionary tale.
Model, because the programs put paychecks into workers' pockets and laid a concrete and electrical foundation for America's postwar boom. Cautionary tale, because the effort did not jolt the Depression economy back to health.
One big reason is that President Roosevelt didn't spend enough to really boost the economy, historians say. But US history offers no guide on how much stimulus is too much, especially since the timing of today's crisis and the Depression are so different.
The Great Depression had been in full swing for three years when Roosevelt came into office and proposed his massive work relief program. Obama will enter the White House as the economy is still unraveling, which may help him.
"This time we're trying to have the bailout and rescue as the crisis is unfolding before our eyes; there's a sense that 'Can we prevent this before it really gets rolling?' " says Jason Smith, author of "Building New Deal Liberalism." "The Roosevelt administration was experimenting – they were kind of operating blindfolded and in the dark – they didn't have the kind of economic expertise that's available to us today."
The infrastructure component of the still-evolving Obama economic-recovery plan would inject billions of dollars into repairing old roads and bridges and constructing new ones, upgrading the nation's schools with new technology, and making public buildings energy efficient.
---