White House says it won't allow Big Three to fail
US could tap $700 billion financial-rescue fund to keep automakers afloat temporarily.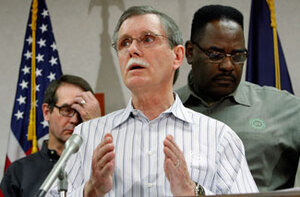 Paul Sancya/AP
The White House appears to have decided that US automakers are too big to fail – or, more specifically, too big to fail given the current state of the economy.
Hours after a Senate effort to pass an auto bailout bill collapsed, administration officials Friday morning said they were willing to reverse their previous position and consider using their existing $700 billion financial-rescue fund to prevent the collapse of any of Detroit's Big Three.
For the US auto industry, it's a lifeline, but a slender one. US officials indicated that their help might be limited to helping GM, Chrysler, and Ford survive until Congress can reconvene and readdress the issue.
"The current weakened state of the economy is such that it could not withstand a body blow like a disorderly bankruptcy in the auto industry," said White House press secretary Dana Perino.
The White House move was perhaps the last remaining way GM and Chrysler could avoid bankruptcy by the year end. On Thursday evening, the Senate narrowly rejected a proposed $14 billion rescue plan.
---