Why fewer murder cases get solved
Police are working to reverse a downward trend, but budget cuts ahead may make the job harder.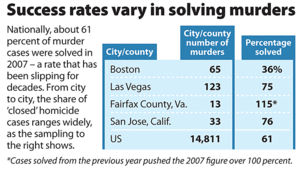 SOURCES: Police departments, Federal Bureau of Investigation/Rich Clabaugh/STAFF
On an autumn Thursday, shortly after 1 p.m., a postal worker in Virginia Beach, Va., found Samuel Baruch on the floor next to the safe in his office. He had been fatally shot during an apparent robbery.
The brazen killing in 1991 was emblematic of a nationwide surge in violent crime that unleashed a wave of campaigns to clean up city streets. But 17 years later, six local homicides from that year, including Mr. Baruch's, remain unsolved.
For decades, the share of homicides that police solve has steadily declined – from over 90 percent in the 1960s to about 65 percent today. The trend defies advances in forensic technology and a federal initiative that has deployed more than 100,000 new cops since the early '90s.
Most surprising, it's persisted even as murders committed in the US have plunged. The national murder rate fell 40 percent between 1991 and 2007, but in a few large cities only about 1 in 3 murders got solved last year. With the economic downturn, expectations are fading that police departments can improve their record by devoting more manpower to tracing killers. Nearly 40 percent of law-enforcement agencies have already cut their budgets, according to a July survey by the Police Executive Research Forum.
"What's going to happen is that you're going to have fewer police trying to solve just as much crime," says criminologist Jay Albanes of Virginia Commonwealth University in Richmond. "If that's the scenario, you can't just continue doing what you're doing now, or you'll continue to slowly slide backwards."
---