Colleges scramble to help cash-strapped students
Many students need extra aid to pay spring-semester tuition.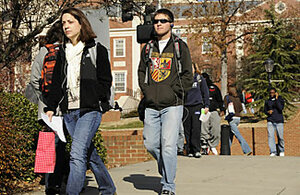 Mary Knox Merrill/staff
It's crunch time for college students. No, this isn't about exams. It's about tuition bills.
Facing job losses, dwindling college-investment accounts, and a tight credit market, students and parents have been streaming into financial-aid offices, asking for adjustments to their aid packages. Colleges are trying to help, but as the second semester starts up, some students have had no choice but to drop out or scale back the number of classes they're taking.
To expand financial aid, many colleges are cutting back on hiring, and construction projects are going on hold. Some institutions are getting creative on the fundraising front – think special appeals to alumni. Another tactic: Some colleges are offering leniency to students with unpaid balances.
School officials thought the trouble would hit this past fall. Instead, overall enrollments were "perfectly normal," says Barmak Nassirian, associate executive director of the American Association of Collegiate Registrars and Admissions Officers (AACRAO) in Washington. But now, he says, "people are apparently running out of steam."
Midyear departures are particularly disruptive. Schools create budgets based on enrollments for the year. And for students, "it's very hard, having done one semester, to then [temporarily stop or transfer] and not end up losing a lot of credits and a lot of time," Mr. Nassirian says.
---