Engineering suddenly hot at universities
The recession and a desire to make a difference drive more students toengineering programs. But the US still faces a shortage in the profession.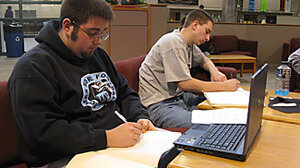 Richard Mertens
Jonathan Liegois once wanted to be a marine biologist. Instead, the college freshman is here at the Milwaukee School of Engineering, his dream of undersea discovery replaced by the more practical ideal of a steady job and good income.
"The job outlook is high," he says, echoing the sentiments of many classmates. "If you stick to it, it will pay off."
Across the United States, enrollment in engineering programs has risen to levels not seen in three decades. The recession appears to be one factor, as students and their parents look for dependable careers.
But some education officials detect a shift in opinion about the profession itself, as global warming and stem-cell research make fields like chemical and bioengineering more than just wise choices for job-seekers – but fashionable ones, too.
Many students are bringing to engineering a heightened sense of social responsibility and a desire "to go out and make a difference in the world," says Joseph Helble, dean of the Thayer School of Engineering at Dartmouth College in Hanover, N.H., where enrollment in introductory undergraduate courses is 30 percent above the five-year average.
---