Where did all the bailout money go?
The government has pledged $11.3 trillion for economic rescue – and has spent one-quarter of that. On what?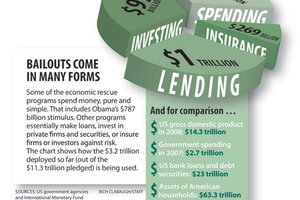 Rich Clabaugh/Staff
It's enough to boggle the mind. If all goes well, it'll be enough to help the economy recover.
The US government has deployed more than $3 trillion in an all-out effort to resolve a financial crisis and end a recession. It is acting as lender of last resort, investor of last resort, and consumer of last resort.
After more than a year of extraordinary federal interventions in markets and private companies, much still hangs in the balance.
At best, the federal efforts could stabilize the banking system, ease a record foreclosure wave, and kick-start an economic recovery. Then the Federal Reserve and Treasury would withdraw their stimulus before it sparks inflation or a run on the dollar by foreign investors.
At worst, the rescue could fizzle. While putting out a fire for a season, it could leave key banks still weak and the economy stalled, all while piling up a dangerous level of federal debt that limits options for the future.
Or the result could be something between those extremes. However it all turns out, the government strategy in some ways echoes the very banking behaviors that helped to launch the crisis: expanding its own leverage (debt) to extend high-risk credit to others.
Here's a guide to the rescue programs, in questions and answers.
What's the recovery effort costing?
A lot, but economists can only guess what the final tab will be. The federal government has allocated more than $11 trillion to fight the recession and financial crisis – an amount that approaches one year's output of goods and services in America. But much of that money is the potential size of rescue programs, not their actual scale (now about $3 trillion).
The amount of money used, moreover, may not be the true cost. Some very large programs may never cost taxpayers a dime. For example, the Federal Reserve stands ready to make as much as $1.8 trillion worth of 90-day loans to corporations – by buying their so-called commercial paper. It's the largest single rescue program, launched when private-sector funding markets froze in a panic last fall. But the money is going out only to firms with high credit ratings and it gets repaid within three months.
---