Atop new NASA leader's agenda: human spaceflight
The Constellation program is gearing up as the shuttle winds down. But other shuttle replacements have been scuttled before.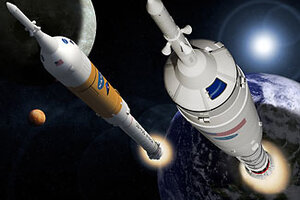 NASA/FILE
Charles Bolden Jr. knows a thing or two about steering complex hardware through turbulence. He flew combat missions in Vietnam. He piloted two space shuttle missions and commanded two others.
Now, as President Obama's nominee to head the National Aeronautics and Space Administration, the former Marine brigadier general has been tapped to steer the agency through a potentially uncertain transition. The space shuttle program is winding down, and its replacement – the nearly five-year-old Constellation program – is under review. Until that review is complete, budget entries for the program beyond the current fiscal year carry an asterisk.
Pending confirmation, it now falls to Mr. Bolden to guide NASA through the tough decisions ahead on the future of human spaceflight. "What we've got is a situation where we're going to wipe the slate clean, and we're going to do something different," says Roger Launius, a former NASA historian and now curator of the Smithsonian Institution's National Air and Space Museum.
If anything different does emerge, one of the administrator's top priorities will be "making key decisions about what that something different is and how to proceed with it," he added.
At first glance, any idea of scuttling Constellation might seem quixotic. At the end of this month, NASA program managers are turning over pad 34-B at the Kennedy Space Center to the Constellation team. The program is preparing for the first suborbital flight test of the Ares 1 rocket, currently slated for Aug. 30.
---