What next for Boston Globe: wage cuts or renewed bargaining?
Largest union rejects $10 million in pay and benefit concessions, maneuvers to resume talks. The paper's owner moves to unilaterally slash wages.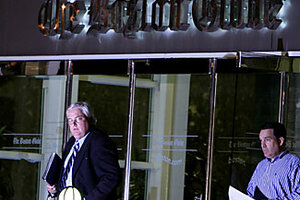 Charles Krupa/AP
Shock, sadness, and some acrimony pervaded The Boston Globe early Tuesday.
Late Monday, the Globe's largest union narrowly rejected a proposed package of pay and benefit cuts. That prompted The New York Times Co., which owns the Globe, to declare an impasse and begin implementing a threatened 23 percent wage cut across the board.
In a statement, Globe management said it is "disappointed" by the vote, which was 277 to 265. But it also said $10 million in cost savings from the Boston Newspaper Guild is "essential to The Boston Globe's financial future." As a result, it will move to unilaterally implement the wage cut next week.
The union is calling on the company to return to the bargaining table. It has not yet commented on the Times' declaration of an impasse, but in a statement Guild President Dan Totten said the vote signaled that union members believe "The New York Times Co. must do better than the offer that was presented." He has also said that if the Times does unilaterally impose a wage cut, the union will file a grievance with the National Labor Relations Board charging that the company negotiated in bad faith. That could tie the paper up in legal proceedings for months, if not years, while the NLRB makes a determination. Contract opponents suggest that will prompt the Times go back to the bargaining table.
---