Shuttle launch delayed again by hydrogen leak
The space shuttle Endeavour won't launch until July, as NASA engineers try to fix a persistent leak in its external tank.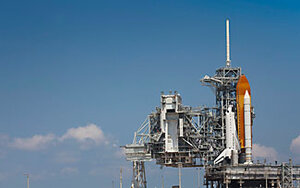 Scott Audette/Reuters
Engineers with the National Aeronautics and Space Administration are trying to track down the cause of a hydrogen leak that has forced a fourweek delay in the launch of the space shuttle Endeavour.
Endeavour and its seven-member crew were supposed to launch Wednesday to the International Space Station to deliver and install a final component to Japan's laboratory module, Kibo. Other objectives include five spacewalks to perform maintenance tasks, and a one-for-one swap of astronauts serving on the space station.
This is the second mission in the last three in which a leak has developed on a venting fixture on the outside of the shuttle's external fuel tank. The leaks allowed explosive hydrogen gas to build up to unacceptable levels.
"We're going to step back and figure out what the problem is and go fix it, and then we'll fly as soon as we're ready to safely go do that," said LeRoy Cain, deputy manager of the space-shuttle program, at a briefing after managers scrubbed the launch.
In the past, controllers were able to fix the leaks by repeatedly opening and closing a valve within the fixture several times. In March, however, that approached failed to eliminate the leak from Discovery's external tank. Technicians replaced the valve and seals in the fixture, and the leak vanished.
This time around, a leak cropped up during fueling last Friday and didn't stop even after controllers repeatedly opened and closed the fixture's valve. Technicians replaced the assembly, and launch was set for Wednesday. But the leak reappeared Tuesday night during fueling. Controllers couldn't staunch it.
---