Counting heads in new ways: The census goes high-tech
The 2010 Census gets a technology makeover, complete with GPS and hand-held computers, but that has some worried about their personal privacy.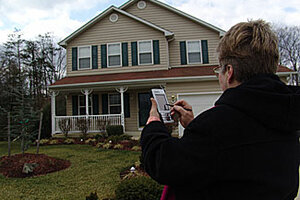 U.S. Census Bureau, Public Information Office
Steve Spence wondered what that unfamiliar car was doing in his driveway. Outside, he found a man toting a hand-held computer standing near the open doors of the garage.
The man explained he was recording the GPS coordinates of Mr. Spence's Winthrop, N.Y., home for the 2010 Census and left promptly. But for Spence, the whole experience felt "a little creepy."
"The ambulance knows how to get here when there's a 911 call. Our house number is on the mailbox out front," Spence says. "Why do they actually have to come onto the property, come to my front door, and take a reading? They could take a reading out from the end of the driveway."
But, as the Census Bureau prepares to take the 2010 census, the end of the driveway simply won't do. It's hoping that new technology will make next year's census the most accurate in its 220-year history.
To improve accuracy, the Census Bureau has armed fieldworkers with customized hand-held computers (HHCs) as they go door-to-door to every residence in the United States, in a process referred to as address canvassing. The bureau hopes this canvassing, which began in mid-March and will likely conclude by the end of June, will ensure that the census has the most accurate and thorough mailing list possible when it comes time to mail the census surveys next year.
"It allows us to make sure that addresses and physical locations match up better," explains Arnold Jackson, associate director for the 2010 Decennial Census Programs. This means more questionnaires will reach their intended recipients.
"It also helps with precise boundaries, so that your congressional, state, legislative, and town council [officials], which use census data that rely on boundaries, can have more precise delineation," says Mr. Jackson.
The number of people recorded in each boundary affects, foremost, how many congressional representatives are allocated to each state. But the outcome also determines how $300 billion in federal funds is divided between local, state, and tribal governments.
---