Many Iranian-American protesters fear to speak too boldly
They want the story of their homeland told, but they worry about reprisals against relatives in Iran, as well as from pro-regime groups here in the US.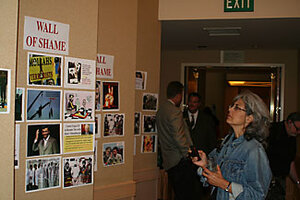 Dan Wood/The Christian Science Monitor
Sixteen-year-old Noosha wears a green head scarf to express support for Mir Hossein Mousavi, the opposition candidate who many Iranians say should have won the June 12 presidential election. Noosha, whose parents left Iran during the 1979 revolution, has spent all her time in the past week listening to radio, TV, and watching YouTube videos of the protests in Iran.
She also uses Facebook and Yahoo! messenger to talk with her cousins in Shiraz in southwestern Iran. "One of the cousins on my dad's side says it's hard to get online, but he just got hold of a computer and tries to get past that," said Noosha, who asked that her last name be withheld for fear of reprisal against relatives in Iran. "He lets off a lot of steam, and I know what keeps him going is the fact that he knows this story is getting out."
Determined, if somewhat guarded, the hundreds of thousands of Iranian-Americans that live in southern California are expressing solidarity with the protestors in their homeland – through demonstrations, press conferences, and television appearances and by keeping their friends and relatives back home updated on the watching outside world.
---