NASA's new breed of astronaut
The space station, now fully staffed, demands diplomats, not jet jockeys.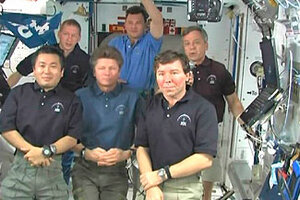 NASA TV/REUTERS/FILE
Some 48 years after the first humans rocketed into space, the International Space Station – now, finally, fully staffed – is redefining the "right stuff" astronauts need to succeed in space.
Yes, some rocket riders still have a military background and a yen to live life on the edge. And it is true that donning a spacesuit, leaving the air lock, and spending six hours floating in space as you fix your orbiting home still does require a cool head.
But now that the International Space Station is hosting its full, six-member crew, the derring-do of jet jockeys is less in demand than comfort with other cultures – like someone who knows where and when to shake a Russian cosmonaut's hand.
Space station astronauts will spend four to six months of their lives in a set of high-tech tubes no bigger than a 747 passenger jet, sleeping in a bedroom the size of a phone booth, and staring at the same faces every morning. Escaping out the front door for a brief walk around the neighborhood is not an option.
This makes the process of choosing a space station astronaut more than science – it approaches diplomacy, with selectors attempting to build an orbiting family from a potpourri of astronauts from different cultures.
The task starts with selecting the appropriate people as new astronauts, says Duane Ross, who heads the astronaut selection office at the National Aeronautics and Space Administration's Johnson Space Center in Houston. Scientific and engineering know-how are a must, of course. But so are inventiveness, patience, and humility.
"You have to be able to keep your ego in check," he cautions. "You can fake anything" for a week or two, just to get through a short mission, he says. But you can't fake being a team player for four months.
---