Jackson: the definitive superstar of the MTV-era
The 'King of Pop' used the music channel to moonwalk his way to fame. But his decline, too, was precipitated by the way TV amplified his peculiarities.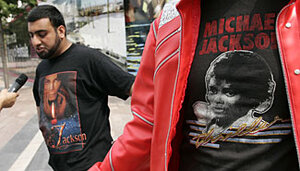 Akira Suemori/AP
Precisely the same force that led Michael Jackson to the pinnacle of popular culture contributed to his eventual – some say precipitous – fall: the confluence of his rise with MTV and the rise of the music video, say analysts.
Mr. Jackson's dance moves were an integral part of his appeal, and he is credited with transforming the idea of a music video into both an art form and promotional tool. He was a major force in attracting the viewers that made MTV a cultural phenomenon.
Yet the very same focus on appearance, most obvious in drastic plastic surgeries, is what may have helped lead to Jackson's eventual fall from popularity.
"The fact that his appearance changed so radically right in public made him appear stranger and stranger, and music videos made noticing that unavoidable," says Peter Lehman, director of the Center for Film, Media, and Popular Culture at Arizona State University.
Jackson blossomed at a time when MTV was establishing itself as a creative, cutting-edge force, says Professor Lehman: "His music videos broke new ground creatively and focused on his genius for choreography that formed an indelible part of his image.
"Without MTV, it's hard to imagine what his career would have been," adds Lehman. "There was no one who made videos that were as different or compelling, and so his career was unparalleled in music history."
---