Could a North Korean missile reach Hawaii?
North Koreans on Thursday tested several short-range missiles, but their track record on longer-range missile technology has been poor.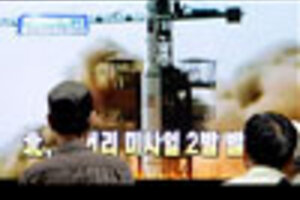 Lee Jin-man/AP
Could North Korea hit Hawaii with a missile, if it wanted to?
In theory, yes. Pyongyang has ballistic missile technology that technically, if it worked to perfection, could throw a small payload across the 7,100 kilometers or so that separate the Korean peninsula from Honolulu, according to a US Congressional Research Service (CRS) report.
But North Korea has tested its most advanced long-range missiles only a few times, and in each instance, something major has gone wrong. The warhead would be so tiny it would do little damage – if it survived the heat of reentry, which is doubtful. (It wouldn't be nuclear. North Korea remains years from developing that kind of capability.)
Accuracy would be problematic. The missile would be as likely to hit ocean as land.
Bottom line: For the moment, the chance of North Korea endangering Hawaii, or any other US territory, may be quite small.
"It makes no sense they would do that," says David Wright, co-director of the Union of Concerned Scientists' Global Security Program.
Last month, Japanese media reported that Pyongyang might shoot a long-range intercontinental ballistic missile (ICBM) in the direction of Hawaii around the July 4 holiday. Shortly after, the Pentagon deployed antimissile interceptors and a sea-based tracking radar near Hawaii.
---