'Python posse' set to hunt Florida snakes. Is it overkill?
Most are feral – the offspring of pets let loose in the wild. Some say their danger to humans is actually low.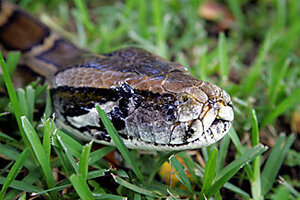 Uma Sanghvi/ The Palm Beach Post/ Newscom
Florida Gov. Charlie Crist is convening the nation's first "python posse," an extraordinary hunt to cull a population of up to 150,000 slithering beasts from state lands and, potentially, Everglades National Park.
The bounty hunt proposal comes after the recent death of a Florida toddler by an escaped pet python and a congressional hearing last week where Florida Sen. Bill Nelson (D) unrolled a 17-foot skin from a python captured in the Everglades.
Senator Nelson says it's just a matter of time before a python of similar size attacks a tourist in the Everglades.
"There's one way to do this: kill the snakes," Nelson told The Miami Herald in an e-mail.
To be sure, a hunt for feral snakes in the "river of grass" responds to many peoples' primal and mythical fear of snakes and other man-eating animals, especially non-native ones.
The Burmese python, which can grow to 20 feet and is known to eat alligators, established a wild population in the 1990s after being released by humans who'd kept them as pets.
But is killing the pythons really the right answer?
People for the Ethical Treatment of Animals, the animal rights group, says no.
"This is the alligator in the New York City sewer times 100,000, and all this could have been avoided by common-sense legislation," says Martin Mersereaux, a spokesman for PETA in Norfolk, Va. "It's not these snakes' fault that they're proliferating, and now we have a massacre at hand."
---