American Airlines losses point to grim times for industry
Other major airlines are also expected to report losses for the second quarter, as swine flu and the recession take its toll on air travel.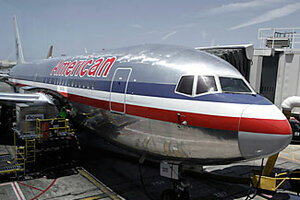 Ron Heflin/AP
American Airlines on Wednesday reported a $390 million loss during the second quarter of this year. The nation's other major carriers will report on their performance in the coming week, and they are also expected to announce significant losses.
The main reason for the losses is the depth of the current recession, which has prompted companies to forego business travel and many vacationers to stay at or close to home, eschewing air travel altogether.
Like the other major airlines, American Airlines had braced for the economic decline. It had cut capacity significantly in the past year, first in response to spiking oil prices, then in anticipation of the economic downturn. This had led many analysts to say, earlier in the year, that some airlines were likely to break even, if not make a small profit. But then the H1N1 flu virus hit in May and June, contributing to a steep decline in passenger travel.
That resulted in a 23 percent drop in revenue, which was partly responsible for pushing up American's loss to $390 million.
"These are obviously disappointing results," says Gerard Arpey, American Airlines chairman and CEO, in a conference call Wednesday with analysts and reporters. "They reflect the challenges we continue to face on a variety of fronts, from a global economic downturn that is affecting demand for air travel to volatile fuel prices to challenging capital markets."
This is the steepest revenue decline the airline has seen since the two quarters following the 9/11 attacks, he added.
---