Washington joins python chase in Florida
A new federal program will allow snakes to be hunted in the Everglades and other US lands in south Florida.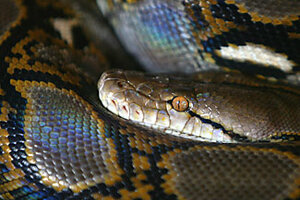 Petar Petrov/AP
This just in from Washington: The Feds will not only join Florida's great snake hunt, but will expand it to include aerial surveillance and research into the lifestyles of feral Burmese pythons suspected to be lying low, yet waiting to strike, in Everglades National Park and other federal lands.
Earlier this week, Florida Gov. Charlie Crist (R) convened a state-led task force of bounty hunters to chase pythons that aren't in national parks, preserves, or refuges. On Friday morning, that hunt yielded its first catch: Three bounty hunters caught a nine-foot python in Broward County.
When it comes to national parks, however, hunting is not allowed. But the newly announced federal program supersedes that rule.
An estimated 150,000 pythons are in the Everglades and elsewhere in south Florida.
"Burmese pythons are an invasive species that have no place in the Everglades and threaten its delicate ecosystem," Interior Secretary Ken Salazar said in a statement Friday. "We are committed to aggressively combating this threat, including having trained and well-supervised volunteers hunt down and remove snakes."
The statement did not include a price tag for the program, and calls to the Interior Department were not returned by time of writing.
---