How an amateur beat the pros in spotting Jupiter collision
With dedication and good timing, amateur astronomers have helped track asteroids and search for planets. NASA is enlisting some for a moon observation mission.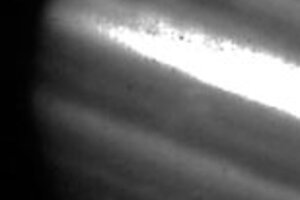 Infrared Telescope Facility/ JPL/ NASA/ Handout/ Reuters
When an object plunged into Jupiter's cloud tops over the weekend, it left a darkened splotch the size of the Pacific Ocean for all to see.
But no one did at first, except Australian amateur astronomer Anthony Wesley. So, where were all those hot-shot professional astronomers and their multimillion-dollar telescopes?
Therein lies a tale of the synergy between professional astronomers and their unpaid counterparts, from engineers and book authors to Caroline Moore, who last November, at the astronomically early age of 14, became possibly the youngest person to discover a supernova.
Amateurs have historically made many contributions to astronomy, aided by serendipity, sheer numbers, devotion to a planet or star – and the luxury of not having to share their telescope with hundreds of other scientists.
The kind of data amateur astronomers can provide these days, particularly imaging data, can be "very impressive," says Brian Day, who heads up NASA's outreach effort to the amateur astronomy community at the Ames Research Center in Moffett Field, Calif.
---