With arrests, New Jersey stakes claim as corruption capital
Latest dragnet includes mayors and state assemblymen with 44 arrests so far.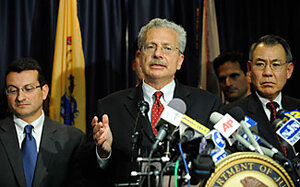 Louis Lanzano/AP
Move over Illinois and Louisiana. New Jersey is vying to be the most corrupt state in the nation.
The state, which has watched many of its public officials sent to jail in the past, is now trying deal with the latest news.
On Thursday, 300 agents from the FBI and the IRS's criminal investigation division swooped in and started rounding up three mayors, a state assemblyman from Ocean County and even someone identified as the chief rabbi of the Syrian Sephardic Jews in Brooklyn. So far, the dragnet has resulted in 44 arrests, and officials indicate there might be more to come.
The arrests are part of a 10-year investigation called Operation Bid Rig, which has already resulted in the arrest of 48 other officials. In the latest round, the FBI used a "confidential witness" who, among other activities, is alleged to have offered officials bribes to move his development projects to the top of the pile.
The federal prosecutor says his office has audio and video tapes of meetings that took place in diners, bathrooms, and offices to back up its claims. "We feel very confident about our evidence," says acting US Attorney, Ralph Marra Jr.
---