Wind, ground thicket fuel Santa Cruz fire in California
The wildfire threatens 250 residences. Many people have packed what they could and left.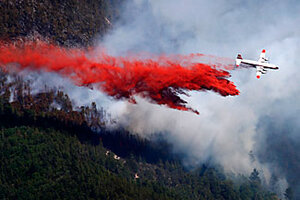 Paul Chinn/San Francisco Chronicle/AP
The thick brown smoke from a raging wildfire drifted above California's scenic coastal Route 1 Friday morning as firefighters continued to battle the blaze spreading over the hills outside Santa Cruz.
The wildfire grew from 2,800 acres Thursday evening to 4,170 acres Friday morning as firefighters kept up efforts to protect about 1,000 nearby structures – both homes and farms tucked away in the hills of Davenport, Swanton, and Bonny Doon in Santa Cruz County.
Local law enforcement officials have issued mandatory evacuation orders for as many as 2,400 people, and fire officials say 250 residences are threatened by the fire. At least 5 percent of the fire was contained Friday morning by the 676 firefighters fighting the blaze.
This fire – called the "Lockheed Fire" due to its proximity to Lockheed Martin's Santa Cruz campus – is proving especially challenging because of the rough thicket of pine trees and brush that covers the hills in an area that hasn't seen a fire this size since the 1940s.
"There's a lot of fuel on the ground," says James Dellamonica, a spokesman for the California Department of Forestry and Fire Protection, or Cal Fire . "It's difficult to fight because of the terrain."
What's more, says Mr. Dellamonica, "We've had some beautiful California weather in the past few weeks and haven't had much rain ... all the components for fire."
On Friday morning the coastal winds had died down, giving firefighters some relief, says Daniel Berlant, another Cal Fire spokesman.
---