Ridge's book raises pressure to reform color-coded 'threat alerts'
Homeland security task force is reexamining the post-9/11 system. What does 'yellow' mean, anyway?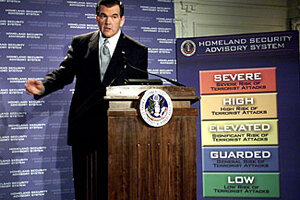 Joe Marquette/AP/FILE
The suggestion that politics influenced the Department of Homeland Security's color-coded terror alert system doesn't necessarily mean that a task force will conclude next month that it should be scrapped altogether.
A new book by former Homeland Security Chief Tom Ridge says he felt political pressure by the Bush administration prior to the election in 2004 to raise the threat level from "yellow" to "orange," raising suspicions that the terror alert system created after 9/11 was more political than functional.
The system has always been problematic, in part because of the confusing messages the color codes sent. If one day is yellow and another day is orange, what should the average American do any differently? The answer is, few people knew.
But a task force due to make final recommendations to current Homeland Security Chief Janet Napolitano Sept. 14 may be more likely to overhaul it than jettison it. While Mr. Ridge didn't say the system was broken, his revelation suggests the system is open to abuse, and that is a key take-away as task force members prepare to make final recommendations.
(Bush administration officials, including former Defense Secretary Donald Rumsfeld, deny the assertion that Ridge was pressured to raise the threat level for political reasons.)
Task force members would not talk about the two formal meetings they've had as a group so far. But some believe the system should not be designed as a terrorist alert system for the public as much as an internal system to be used by authorities with specific direction. The current system makes no such distinction, so first responders such as police and fire departments are essentially given the same vague notice as the public.
---
Follow Stories Like This
Get the Monitor stories you care about delivered to your inbox.