Somehow, it seems Jaycee raised two 'normal' daughters
Dugard's aunt said Thursday that the two girls are 'educated and bright.' But after a lifetime of captivity, they will have to adapt to a whole new reality.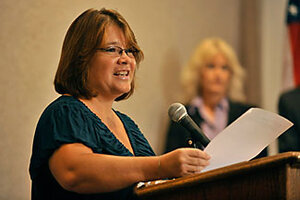 Jae C. Hong / AP
Jaycee Lee Dugard's reunion with her family after being kidnapped 18 years ago has been a "joyful time" filled with tears and laughter, said Ms. Dugard's aunt at a Los Angeles press conference Thursday.
Tina Dugard gave the first account from a family member who has seen Jaycee Dugard since her rescue last week, providing a brief glimpse into the beginning of what experts say will be a long and challenging recovery for the kidnapping victim and her two children born in captivity.
While Dugard says that her niece "remembers all of us," the two children in this case – girls 11 and 15 years old – are not only meeting new family members for the first time. They're also faced with adapting to an entirely new reality – one in which the man who is allegedly their father faces multiple charges for abducting and keeping their mother captive since 1991.
Details of the secluded life that Jaycee Dugard and her children led in the backyard of an Antioch, Calif., area home are few. But the ones that have come out reveal there was some sense of normalcy amid what appears to be a horrendous crime.
Some neighbors have told reporters they saw the children playing in the front yard. They even attended birthday parties of friends. In an interview with The Orange Country Register, Tina Dugard said the girls watched movies, played video games, and had access to the Internet.
"They are educated and bright," she told the Register. "It's clear that Jaycee did a great job with the limited resources she had and her limited education."
---