Bay Bridge reopens, but delays on its replacement mount
Crews worked round-the-clock to repair a cracked beam, but the bigger task – finishing the new eastern half of the bridge – keeps getting pushed back.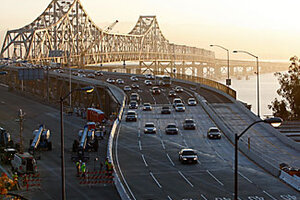 Ben Margot / AP
Delays are somewhat synonymous with the San Francisco-Oakland Bay Bridge. Just ask anyone who has ever crossed it at rush hour or followed the still-unfinished 20-year process to make it more earthquake resistant.
But at least this time, a delay has been averted.
Crews faced an unexpected patch job after finding a cracked eyebar support during a scheduled five-day closure for work on Bay Bridge. But they managed to reopen the bridge, one of the busiest in the world, before the rush-hour commute Tuesday morning.
Transportation officials had been warning Bay Area motorists to brace themselves for a day-long extension to the closure, saying it wouldn't open until 5 a.m. Wednesday.
The attitude around the Bay seemed to be one of begrudging acceptance. Annoyed drivers scrambled to find alternative ways – on trains, ferries, or over other congested bridges – to work but expressed a better-safe-than-sorry attitude.
"People do what they have to do. I was upset to hear about the crack, but I'm glad they fixed it," one commuter told the San Francisco Chronicle.
But the damage to the steel link was fixed as crews worked around-the-clock to patch the beam and open the bridge before 7 a.m. to the nearly 260,000 vehicles that travel over it every day.
The bridge had been closed Thursday evening so the crews could continue the process of replacing its eastern span.
The Bay Bridge is divided into two halves, with the eastern span running from Yerba Buena Island in the middle of San Francisco Bay to Oakland. A new eastern span is being constructed next to the old one, which is still in use.
---