Post 9/11, Americans say Muslims face most discrimination
But many also see Islam as a violent religion, according to a Pew Forum survey.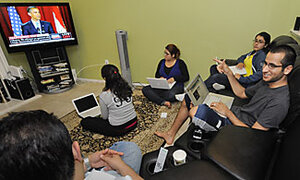 Gus Ruelas/AP/FILE
Eight years after the terrorist attacks in New York City and Washington, Americans believe that Muslims face more discrimination than any other religious group in the US.
Fifty-eight percent say Muslims face "a lot" of discrimination, according to an annual survey of religious attitudes by the Pew Forum on Religion in Public Life and the Pew Center for People and the Press, released Wednesday.
The groups surveyed 4,013 adults nationwide in August. This is the first year it asked about perceived discrimination of religious and social groups. Sixty-four percent of respondents said gays and lesbians face discrimination; 35 percent believe Jews do and 27 percent believe evangelical Christians face discrimination.
The survey sample composition means the majority of respondents – and of those who perceive discrimination against Muslims – are Christian. It's a finding that suggests Americans are tolerant pluralists, but Greg Smith, a senior researcher at the Pew Forum on Religion and Public Life, says the full picture is more complicated.
In the same poll, he notes, two-thirds of people indicated that they see Islam and their own beliefs as quite different.
---