Taking Guantánamo detainees could help hard-hit Michigan town
If guarding the controversial prisoners keeps a Standish, Mich., prison open, many locals are for it.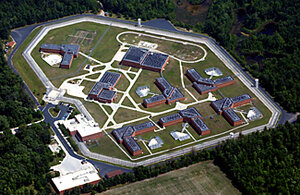 Dan Staudacher/ The Bay City Times/ AP/ File
The scuttlebutt among residents of this one-stoplight town is not your garden-variety chitchat. Graver matters are at hand.
Dominating discussion in Standish, Mich., is the prospect that suspected international terrorists at the Guantánamo detention camp in Cuba may, within months, be living two miles down the road at the state prison. Close behind is a countywide jobless rate of 25 percent.
The revelation that Guan­tánamo detainees could be shipped here has caused a buzz around town. But it was not nearly the bombshell that landed in June, when residents learned that Standish Max, as the maximum-security prison is known, would fall victim to the budget ax in Lansing and be closed. As doomsday scenarios go, the economic future without the prison is, for many Standish residents, more frightening than any vague future terrorism threat.
The result is that the city government and many residents are pleased that their close-knit community is on the Obama administration's shortlist as a place to secure at least some of the 228 Guantánamo detainees.
Fort Leavenworth in Kansas, home of the military's only maximum-security prison, is also believed to be under consideration, and it's not known if officials are considering other sites as well.
"We'll persevere and get through it," Mayor Kevin King says of the prison closing. "Getting the detainees," he adds, "would probably make it easier to get through it."
---