Rising college costs prompt student loan reform
States struggle to contain fees at public universities while the federal government rolls out affordability measures to help counter the rising costs of higher education.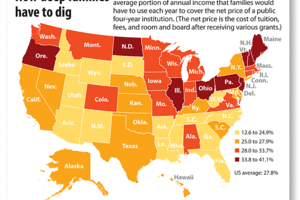 Rich Clabaugh/Staff
As 19 million college students descend on campuses this fall, many families are asking: Can we afford this?
People are often willing to stretch already-tight budgets to reach their college goals. But when costs get out of reach, a national goal is at stake, too: By 2020, President Obama has said, the United States should lead the world in the rate of college degrees earned. Both he and members of Congress are at work to boost financial support for college students.
Many factors determine whether college is "affordable" – everything from students' income, to state and federal policies, to a school's price. Here's a look at some of the current issues and long-term trends that play into the affordability equation.
What's happening with state financial aid and tuition at public schools?
Last year, average tuition and fees at public four-year institutions came to $6,590, but the net price (what's paid after receiving various grants) was $2,850. Students also paid $7,750 for room and board, the College Board reports.
Prices, and the degree to which they're going up this year, vary considerably from state to state. Because of revenue declines, at least 32 states have made cuts to higher-education funding recently, and more may follow. California students can expect to see cost increases of up to 20 percent, while those in Washington State, Florida, and New York will see a spike of about 15 percent, says Terry Hartle, a senior vice president at the American Council on Education in Washington.
---